Art 美術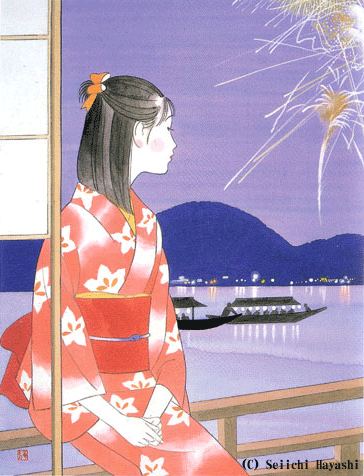 Today I went out to the dollar store to get some giant envelopes to send stuff to Canada. I happened upon some artwork that I swore I had seen before on candy as
Koume
and loved the artwork enough to set it as my screen background for a while, but I didn't know who had done it. Now I do, a man by the name of
Hayashi Seiichi
. It's a blend of traditional and modern style and it is awesome - finally, Japanese artwork that LOOKS JAPANESE.
今日は百円店に行ってカナダに送る為に十分大きな封筒を探していた。それで、
小梅
という飴の袋で確かに見たことあると思っていた(実は、電脳の壁紙は彼女の絵だった)が、誰が描いたか全然知らなかった。今は知っているー
林静一
という男の方。伝統と現代の式を混合して素晴らしくなる。やった、日本っぽいの日本美術!
I also found a
page
with the same hybrid style for Chinese artwork, called
gongbi
. I think I'll use it in a China introduction presentation for my schools. I showed that famous "
world at night
" picture and most kids said "China!" when I pointed to Korea, so I think a little education is in order.
同じ式の中国美術のページ工笔画(ゴンビ)という絵の
ページ
を見つけた。なんか学校で中国を紹介しようと思っているのでその絵を使おうかな。その有名な「
地球の夜
」の写真を見せて韓国を指すと生徒の皆「中国!」と答えたのでちょっと教育させなくちゃかな。